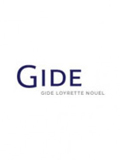 Founded in Paris in 1920, Gide Loyrette Nouel is a leading international law firm. It has 19 offices around the world and over 600 lawyers and legal consultants, including 97 partners, drawn from 40 different nationalities. The Firm offers some of the most respected specialists in each of the various sectors of national and international finance and business law.
For more than 90 years, the Firm has been offering legal advice and assistance across a broad spectrum of legal disciplines to businesses, public and private sector institutions and governments.
In each of its offices in Europe, Asia, North America and Africa, Gide Loyrette Nouel puts its comprehensive knowledge of local markets, its regional expertise and the resources of an international law firm to the service of its clients.
Gide Loyrette Nouel is the exclusive member firm for France of Lex Mundi, the world's leading association of independent law firms. For more information on Lex Mundi: http://www.lexmundi.com/.
The Firm is one of the partners of the Association Henri Capitant, which aims to promote worldwide the implementation and modernisation of civil law systems.